Education news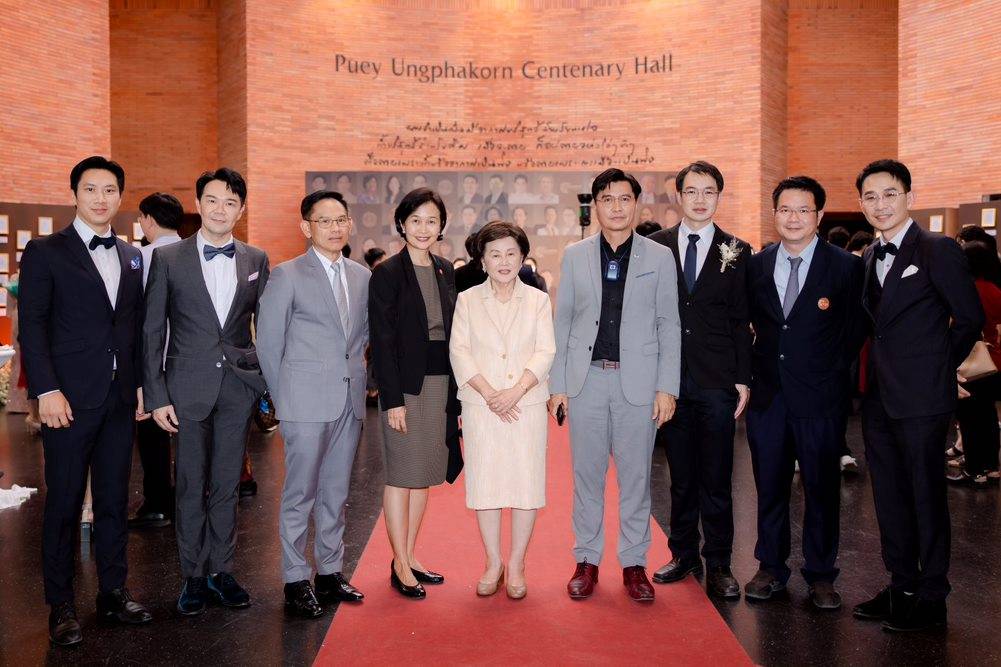 Thammasat University honors 73 researcher cases, 7 branches, and 57 awards, emphasizing on academic progress
Research and Innovation Department together with Thammasat University Research and Consulting Institute (TU RAC) organized the event 'Researcher Honorary Day at Thammasat University 2022' to give awards to all 73 teachers and researchers, 7 branches, in total of 57 medal awards. In honor, morale and encouragement, to create research and innovation that result in developmental changes, both in Thailand and global society, as well as be able to win both national and international awards led by Professor Dr. Surapon Nitikraipot, Council President of Thammasat University, who presided over the award ceremony.
Assoc. Prof. Gasinee Witoonchart, President of Thammasat University (TU), said, "Thammasat is an educational institution that places importance on academics, research, creativity, inventions and innovations. We are committed to promoting research and further innovation. The research fund is established at Thammasat University, with a budget of about 150 million baht and we are about to set up a fund for professors, with a budget of about 200 million baht, to support both domestic and international researchers. Together with teachers and researchers at Thammasat, we produce research that will raise the level of research quality and be accepted globally.
In the past, Thammasat University has had many innovations that have been awarded in the country and a renown global reputation. It emphasizes the potential of Thammasat professionals who have the knowledge and ability to invent innovations to solve social problems. The research works that received an award is a great proof of Thammasat's success. The research can create visible changes in society (Social Impact). Just like a candle that shines brightly, leading society to see the direction of development, improvement, change, and taking care of the people's good quality of life. This will lead to a reduction in inequality, as well as growing sustainably without leaving anyone behind."
Professor Dr. Siriwan Suebnukarn, Vice President for Research and Innovation, Thammasat University, said, "The Research and Innovation Department has received budgets for the implementation of research plans and activities thoroughly and continuously. In order to promote and support research and innovation in various fields such as research study, creative work, innovation, inventions, publication of works, registration of intellectual property rights, etc.
It is our pleasure to say that in the year 2022, the university's professionals and researchers have received numerous national and international external awards for their research and innovation, which reinforce the university's achievements in generating high-quality research. As well as showcase the readiness to support new generations of researchers under the challenging problem of connecting knowledge across departments. In order to lead to real benefits for the public."
Meanwhile, Assoc. Prof. Witaya Danthamrongkul, Director of Thammasat University Research and Consultancy Institute (TU RAC), said, "This year, TU RAC has been entrusted by various agencies to provide more than 372 research projects. There are also many famous researchers from our university. And we received about 10 awards in the category of large projects worth 20 million baht or more. Therefore, it is considered this is another year of success for TU RAC in producing quality research. And we are dedicated to create innovative research for society in the future."
As for those who received prizes at the event "Researchers Honorary Day at Thammasat University 2022" is divided into 7 types of medals, consisting of: 1. Those who have been graciously appointed to the position of Professor, in total of 7 medals; 2. Recipients of the Royal Award of Her Royal Highness Princess Maha Chakri Sirindhorn, distinguished research professors, senior researchers and distinguished national researchers, in total of 4 medals; 3. Researchers who have been appointed to professors and received higher salaries, in total of 2 medals; 4. Recipients of an outstanding research award winners at Thammasat University, in total of 19 medals and 4 research papers; 5. Recipients of large projects researchers, in total of 11 medals; 6. Recipients receiving awards for outstanding young researchers at the department level, in total of 12 medals; 7. Recipients of honorary awards for research from external agencies, in total of 21 medals, 17 awards.
Professor Dr. Paskorn Sritipsukho, the winner who received the Outstanding Research Award for the effectiveness of the COVID-19 vaccine in Thailand: a study in real situations (COVID-19 Vaccine Effectiveness in Thailand: a Real World Study), said that the award ceremony that "This research is challenging. It is also the beginning of research and development to build the confidence of the public towards a vaccine that has been invented to prevent COVID."
As for Assistant Professor Dr. Peera Charoenvattananukul, an outstanding young researcher at the department level receive 3 awards: 1. The End of Compromise: Political Meanings of Thailand's First National Day Celebrations on 24 June 1939; 2. Overthrowing Giants for Status: Social Stigmatisation of Status Dissatisfaction with a case study of the Russo-Japanese War 1904-05; and 3. Feigned resignation as political strategy: cracking the mysterious case of Phibunsongkhram's reversal of resignation in 1943; has mentioned this success as "Very happy for the award received".
Associate Professor Dr. Jaturong Tantibundit, a representative of an honorary award for research from an external organization that has received the State Excellence Award 2022 (excellent level) in the category of expanding service standards on Al Chest 4All (DMS-TU) For Thai People, said, "I'm glad and proud that this research can be used continuously. This award will be an important inspiration to for future work and to develop of technology that will benefit society. And will be an example for future generations of students and other researchers as well."
Source: Thammasat University