Education news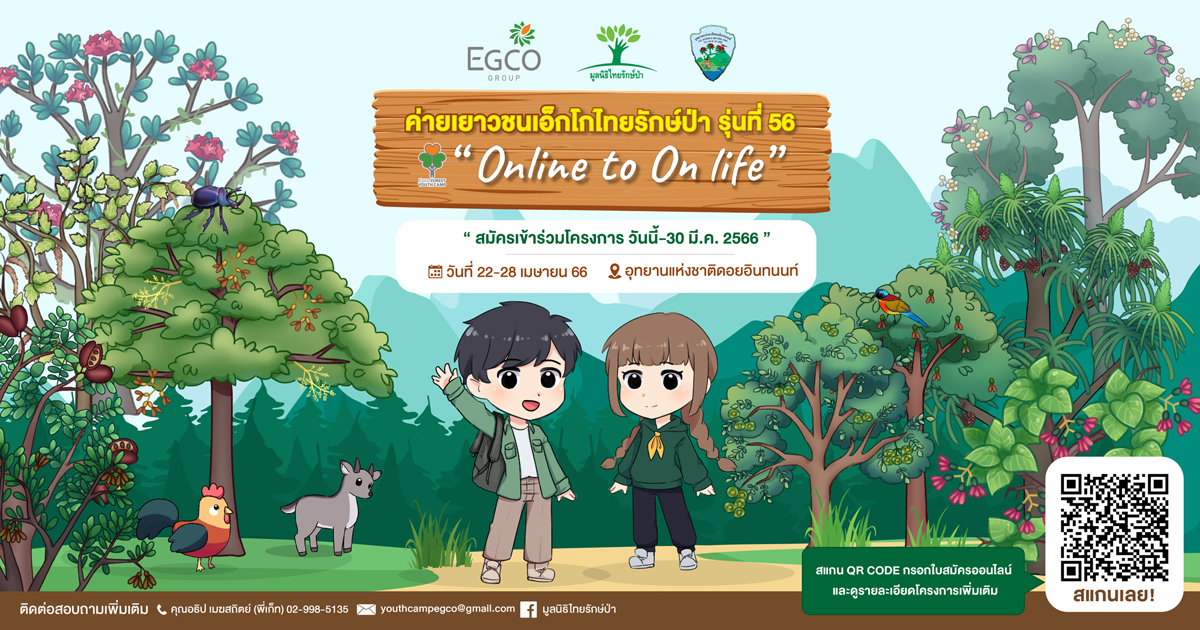 EGCO Group invites senior high school students to join Inthanon watershed forest trip in 56th EGCO Forest Youth Camp
Electricity Generating Public Company Limited or EGCO Group, the Thai Conservation of Forest Foundation (TCOF), a non-profit organization established and supported by EGCO Group, and the Doi Inthanon National Park invited senior high school students nationwide to join "56th EGCO Forest Youth Camp". Held from 22-28 April 2023, the activity will be arranged under "Online to On life" theme where participants will have opportunities to experience and learn more about watershed forest and natural resources conservation at the Doi Inthanon National Park in Chiang Mai province. Applications are open now until 30 March 2023 through three channels – sending "an essay" or "a short video clip" or joining the "EGCO Forest Camp" online game to collect points.
Mr. Thepparat Theppitak, EGCO Group's President, said, "EGCO Group has resumed the "EGCO Forest Youth Camp" after the Covid-19 pandemic has been resolved. The camp will bring young people out of the online world and back to the real world again. Based on our strong belief that "a good beginning will yield good result", EGCO Group has continuously instill the natural resources conservation mindset among the youth who will become the future of the nation. We also focus on conservation of watershed forests which are the origin of rivers, energy sources, and rich of biodiversity. With the forest as their borderless classroom throughout the 7-day-6-night camp, participating high school students nationwide will learn together more about the ecosystem of watershed forests and explore ways to apply what they learn into their daily life."
The 65 students who passed the selection process of the "56th EGCO Forest Youth Camp" will travel by train and go camping in the Doi Inthanon National Park in Chiang Mai province. The national park will serve as their natural classroom during the week-long camp. Participants will explore forests along Kew Mae Pan Nature Trail which is rich of geographical and biological diversity and learn more about the nature while nurturing relationship with other students joining the camp. The activity is fully sponsored by EGCO Group.
Interested persons can apply now until 30 March 2023. Three ways to apply are:
Submit a one-A4-page "handwritten essay" or a "short video clip" of no longer than two minutes about "COVID-19 & Climate Action & Sustainability" at https://forms.office.com/r/3msTqk4Xhw. EGCO Group will select 35 students applying through this channel.
Play the "EGCO Forest Camp" online game at https://egcoforestcamp.egco.com/. The first 30 highest scorers will be recruited to join the camp.
For more information about EGCO Forest Youth Camp, please click https://bit.ly/421UNw2 or email to [email protected] or visit TCOF Facebook fanpage (https://www.facebook.com/thairakpaofficial). The list of 65 selected camp participants will be announced on 6 April 2023.
Source: Electricity Generating Public Company