Education news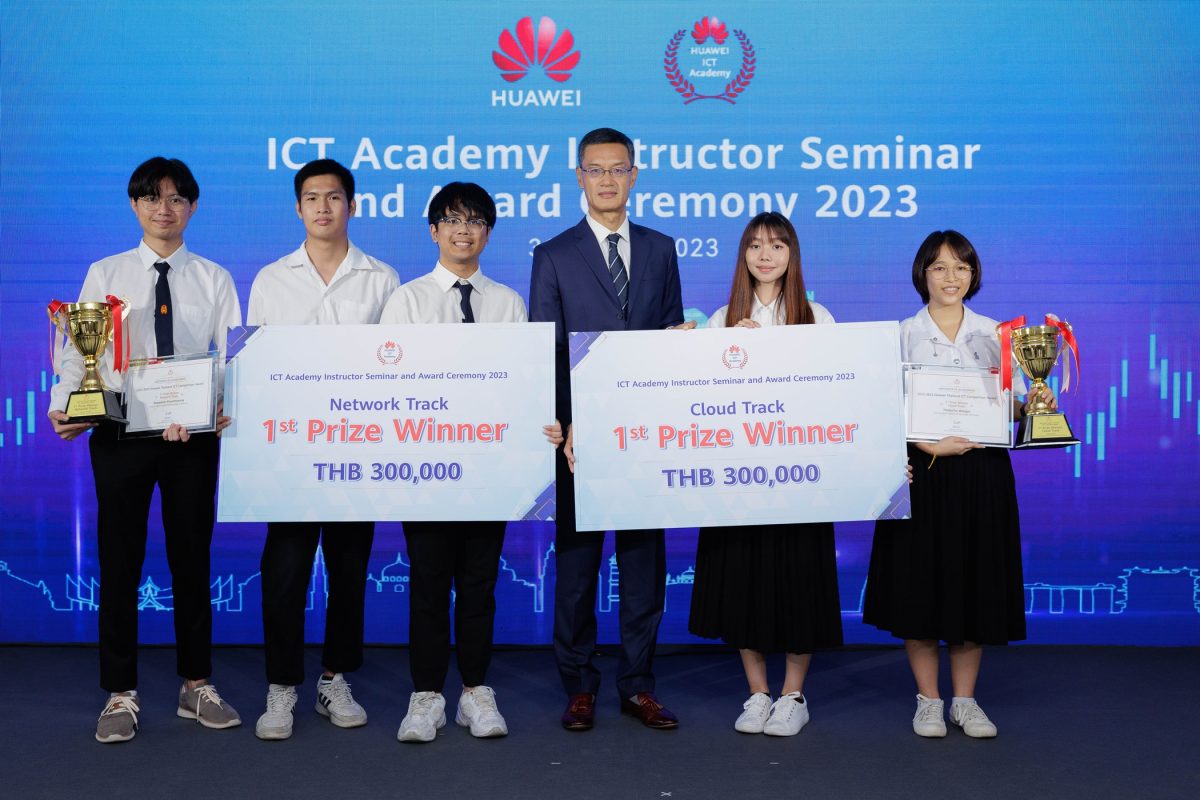 Meet the Winning Teams of the Huawei ICT Competition 2022-2023, Thailand's Next Generation of Digital Talents
From 'Digital Citizens' to a future generation of 'Digital Talents' – The key to building Thailand's digital ecosystem
The Huawei ICT Competition 2022-2023 has recently come to a close. This year's competition had elevated the digital skills of over 200 university students across Thailand. This year, Huawei Thailand, together with its partners from the public and private sectors, came together at the competition's closing ceremony to celebrate the successes of the participating students and award the winning teams with scholarships totaling over one million baht and exclusive internship opportunities with Huawei.
At the closing ceremony, the two teams who won the national contest revealed their personal journeys that brought them to this point as well as their pride in advancing to the next round of the competition where they represented Thailand at the Huawei ICT Competition 2022-2023 Asia Pacific Final Round in Jakarta, Indonesia, in March 2023.
Nattapat Buakhamkote, Thirawee Thitiwattanakornsiri, and Noppanut Kammueang are undergraduate students at the School of Information Technology, King Mongkut's Institute of Technology Ladkrabang (KMITL), and make up 'Team First Timer', the winners of the Network Track category. Following their victory, the team expressed their thoughts on the experiences they had gained from the competition: "This is the first time the three of us have teamed up for a network competition at the national level. We all feel very happy to win! We had to go through many challenges at all stages of the competition, from the workshops and the contest itself through to the judging process by the committee and the regional final round in Indonesia. Our assignment was to design an IT solution to address an organization's needs in terms of creating an extended internal network for its headquarters and branches. The task included Wi-Fi utilization, server design and setup, and firewall design, and all of these had to be connected with Huawei's provided technologies to ensure the highest level of security."
"We would like to thank our instructors who gave us invaluable advice throughout the competition, especially with regards to the final round in Indonesia. Also, we would like to thank Huawei for all the theoretical knowledge and practical workshops, especially providing the 'We Know How' course opportunity during the workshop phase."
"This competition has taught us how to apply IT knowledge and skills to the real world. It's also inspired us to get ready to step up from being 'digital citizens' to becoming 'digital talents', who have the qualified skills needed to enhance technology and allow more people to access it globally. We are personally committed to continue developing a better connected IoT that will allow network devices to connect seamlessly. This includes other cloud-based communication technologies for Thailand and the world."
Likewise, 'Team FASCINATOR', who achieved first place in the Cloud Track category, consists of Dusadee Lertapirukwong and Thatpicha Wongsa, both undergraduate students at KMITL's School of Science, as well as Phattaravarin Looknamphet, undergraduate student at KMITL's Faculty of Liberal Arts. They expanded on their achievements: "We all have a mutual passion for innovation and technology, and we believe that we can be more than just 'digital citizens'. We use technology to not only accommodate our lives, but also to fulfill our drive to be 'digital talents', so we decided to set up Team 'FASCINATOR' and joined the Huawei ICT Competition 2022-2023."
"Our assignment was to run a cloud-computing project, and through the competition, we got the chance to learn about its theories in-depth and to attend several workshops. The most challenging part was when we attended the regional finals in Indonesia, but we gained a lot of knowledge about innovation and technology through the program's theoretical classes and hands-on workshops, especially on how to use Huawei's cloud technology for laboratory work and how to design a cloud-based solution built on Huawei's cloud technology, as well as other technological resources to ensure the most efficient solutions."
"We'd like to express our gratitude to Huawei for their support and for sharing their technological knowledge resources with students across Thailand, as well as to all the other participants in the competition for making the process so enjoyable. We can see that Huawei's cloud computing technology has the potential to accommodate users' needs at all levels. Our victory has inspired us to continue our endeavor to become skillful digital talents so that we can be a part of the skilled future talent pool driving forward Thailand's digital transformation."
In addition to the winners, the instructors of Team 'First Timer' and Team 'FASCINATOR', which included Assoc. Prof. Dr. Chotipat Pornavalai, Asst. Prof. Dr. Sumet Prabhavat, Asst. Prof. Dr. Lapas Pradittasnee, and Asst. Prof. Dr. Warangkhana Kimpan, shared their thoughts: "In the digital transformation era, we are all aware that technology is changing rapidly. It is important that all technologies – whether it be for network computing, AI, or other uses – be collaborative. If we can integrate them all, it can build up a new knowledge base that will in turn facilitate a better quality of life for all. We would like to thank Huawei for hosting this competition, which has helped build effective collaboration between government departments, educational institutions, and the private sector, resulting in stronger digital network development in Thailand. Furthermore, the Huawei ICT Competition 2022-2023 has given all of the participating students inspiration for self-development. We have seen increased interest in Huawei's network, cloud computing, ICT, and AI technology among our students."
The instructors added further: "Thailand still needs higher numbers of digital talents, especially IT specialists. They play an integral part in driving the country's digital transformation forward. Consequently, our institute is committed to providing knowledge and developing students' skills by encouraging them to participate in competitions like this so that they can be prepared to become a capable future digital workforce for the country. Our aim is to fill Thailand's digital ecosystem with competent professionals."
Huawei is committed to cultivating digital talents in Thailand to strengthen Thailand's ICT ecosystem in line with its mission to 'Grow in Thailand, Contribute to Thailand'. To date, Huawei has trained more than 70,000 digital personnel in the past four years for which it was awarded the Prime Minister Award for the "Best Contributor in Human Capital Development" in June 2023. Huawei's current goal to cultivate over 10,000 ICT developers in 2023, with the company planning to train more than 20,000 cloud developers over the next three years (2023 to 2025) to enhance Thailand's ICT ecosystem.
Source: Carl Byoir & Associates