Education news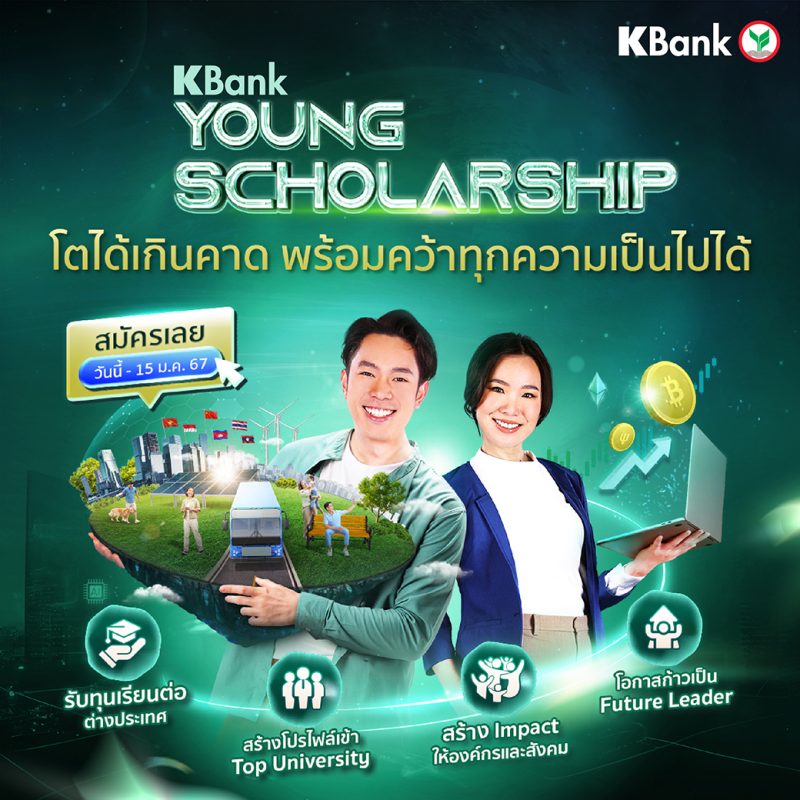 KBank invites the new generation to join KBank Young Scholarship 2024 Scholarship
Scholarship recipients will have the chance to gain hands-on experience and enhance their capabilities through expert guidance, paving the way for international graduate studies.
KASIKORNBANK (KBank) is offering five graduate scholarships to fourth-year students or those scheduled to complete their bachelor's degree to pursue their studies abroad as part of KBank Young Scholarship 2024. The program aims to nurture young talents who will help lead the Bank into a new-era financial world. Selected candidates will receive a full scholarship, along with guidance from a team of experts specializing in international education to coach and help them create outstanding profiles for successful admission to top-ranked global universities. Additionally, participants will gain three years of real-world experience at KBank, enabling them to explore and identify preferred career paths before choosing their field of study and university for further education. With the support of experienced professional team members and mentors, this opportunity is crucial for aspiring future leaders. Applications are open from now until January 15, 2024, through www.kasikornbank.com/kbankscholarship.
Ms. Hataiporn Chiemprasert, KBank First Senior Vice President, said, "Human resource development is instrumental in steering the organization towards the goal of a Bank of Sustainability. KBank always strives to be the best place to work, learn and lead, so that our employees can unleash their fullest potential and enhance customers' quality of life, with the 'Possibility to Make an Impact' concept in mind. This commitment has given rise to the KBank Young Scholarship program, which is now in its eighth year and has thus far awarded scholarships to more than 30 recipients."
Under the KBank Young Scholarship 2024 program, applications are now open for five scholarships for undergraduate students, who are currently in their fourth year or scheduled to complete their bachelor's degree, in order to pursue a master's degree at globally recognized universities abroad. One unique aspect of this program is that selected candidates will receive coaching from a team of experts to create outstanding profiles and prepare them for admission to world-class universities. KBank has the country's leading education consultants, specializing in international education, to help improve the potential of scholarship recipients, focusing on building professional profiles and language proficiency. Related costs will be supported by KBank. Additionally, KBank will cover all expenses during their preparations to further their studies and while they study at universities abroad. A dedicated team from the People Development Department will look after all scholarship recipients to ensure that they are well-equipped in all aspects and come back to contribute to the growth of KBank together.
In addition, during the first three years while awaiting enrollment, scholarship students will have the opportunity to explore their interests and preferences through real work experience at KBank. They will work with professional teams in key areas that drive the Bank's operations, namely Wealth Business which involves portfolio management, financial planning and investment strategy advice, as well as the design of wealth products and services to meet the needs of high-potential customers. Additional areas are Credit Business with tasks covering market analysis and business opportunities identification to offer financing to customers, loan product development, and risk analysis; and Data Management and Analytics which involves business strategies, data management and analysis, business data analytics, and development of data models based on business requirements in support of the Bank's strategic planning.
Candidates must currently be final-year university students or scheduled to complete their bachelor's degree in 2024, regardless of their field of study, with a GPA of at least 3.25. Additionally, they should be keen learners, adaptable, and those who dare to think, try and decide for business success. Applications are open from now until January 15, 2024, through www.kasikornbank.com/kbankscholarship. For more details, please contact the People Development Department (Scholarship) at Tel. 02-4701361, or [email protected].